​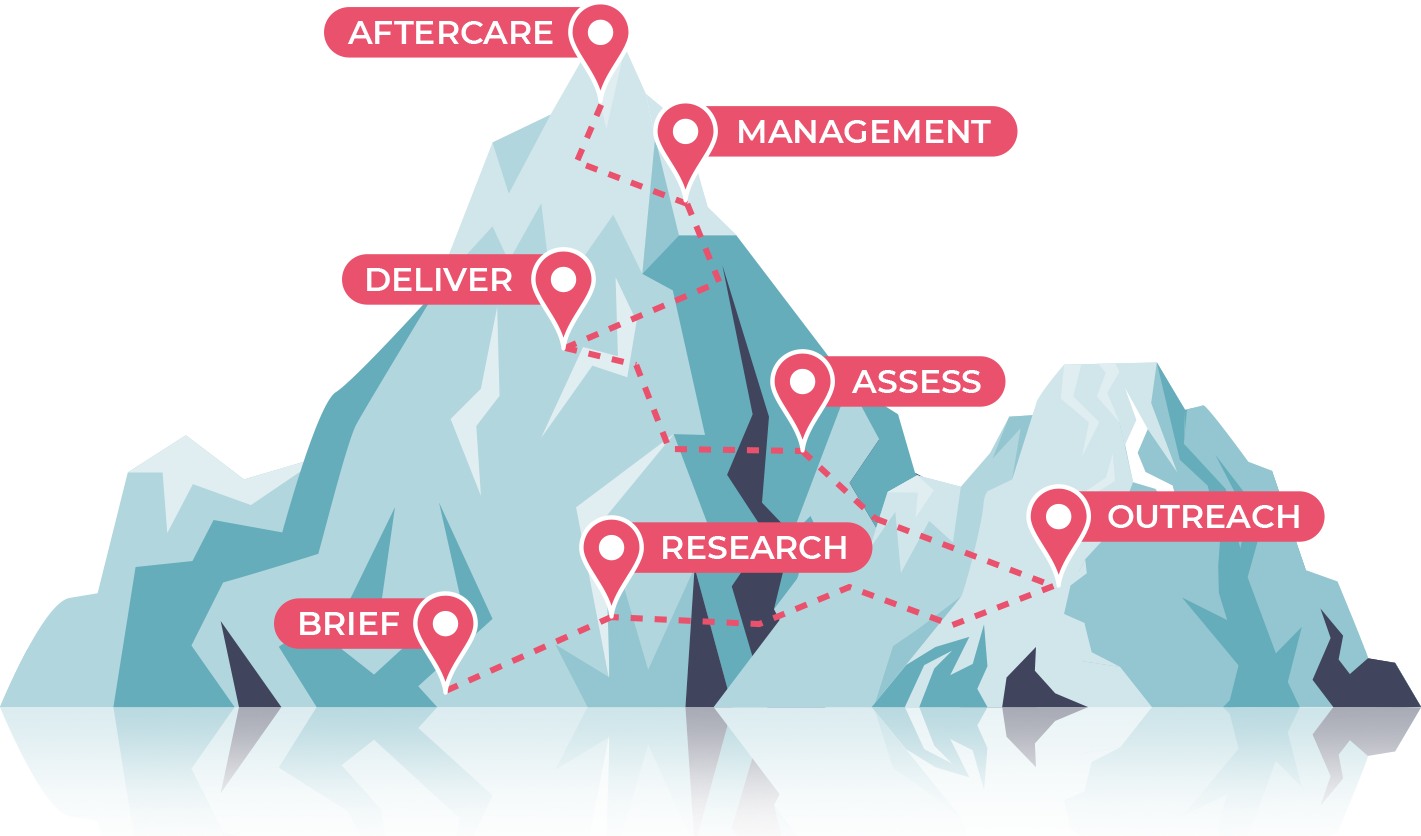 Brief
Your dedicated Consultant, who will oversee the successful delivery of every aspect of our service, will work with you to take a full, detailed but personal brief.
Core skills are just part of the perfect hire… we want to understand the ethos, culture and personalities within your business so we can hire someone that doesn't just do a job, but feels right at home.
Research
Before diving in, we work to thoroughly understand the all-important context and balance needed to find the perfect fit.
We exhaustively research the market – our global database, wide-reaching networks and tech communities – planning the best approach for success. 90% of people we work with are passive, as we find you the best talent and not just the easiest to find.
Outreach
We need to get the attention of busy people, so it's vital we approach them in a respectful, human manner. People aren't just a number to us.
Leveraging technology, we take a multi-channel approach to deliver a detailed, contextual insight into the role. We personally discuss the journey, ensuring people understand exactly why we're excited to represent you.
Assess
People get caught up in finding the perfect profile 'on paper', but this is only a small part of finding the right candidate.
We interview candidates to get to know them both professionally and personally – to understand their motivations, learn about their experience and, ultimately, to get a feel as to whether this person could be the right long-term fit for you.
Deliver
Once we are excited that we have great options to meet (and exceed) your brief, we submit our findings and, importantly, the 'why'.
Each candidate is sent with a CV and cover sheet, and a summary of why we think they would be a good fit – be it technical skills, industry experience, or cultural fit – plus details around their salary expectations and circumstances.
Management
We're here to make life easier for our clients, so we take care of all the back and forth in co-ordinating interviews, testing and, of course, handling the delicate offer stage.
A recruitment process often becomes a pressurised, contrived situation. We look to take the lead in cutting through this, speaking personally with candidates at every stage along the way, and managing expectations with efficiency and transparency in equal measure.
Aftercare
We're not in this for quick wins, we build lasting relationships… which is why Found was built on partnerships spanning 10+ years. We keep in constant contact with candidates in the build up to their start, ensuring they are prepared and excited!
Following their start we check in regularly with all sides – not just as a procedure, but as a genuine care for the people we place and ensuring we've delivered a great match for everyone. We're always looking to improve, so always look to gain valuable feedback for the future.​